1. Spend your leisure time of your internships on Rhodes at the beach.
During your internships on Rhodes you can swim in the gorgeous turquoise ocean before relaxing in the sunshine. Rhodes is a very popular destination for beach lovers. Wherever you will go and however long you will drive to start your beach day you will always find a nice beach to enjoy on Rhodes. So come here for your internships on Rhodes and see the beauty of the beaches by yourself! Our favorite beach is called Agathi Beach in Haraki. This beach has golden sands, shallow waters and you can eat here in a small Greek taverna. Which beach is your favorite one?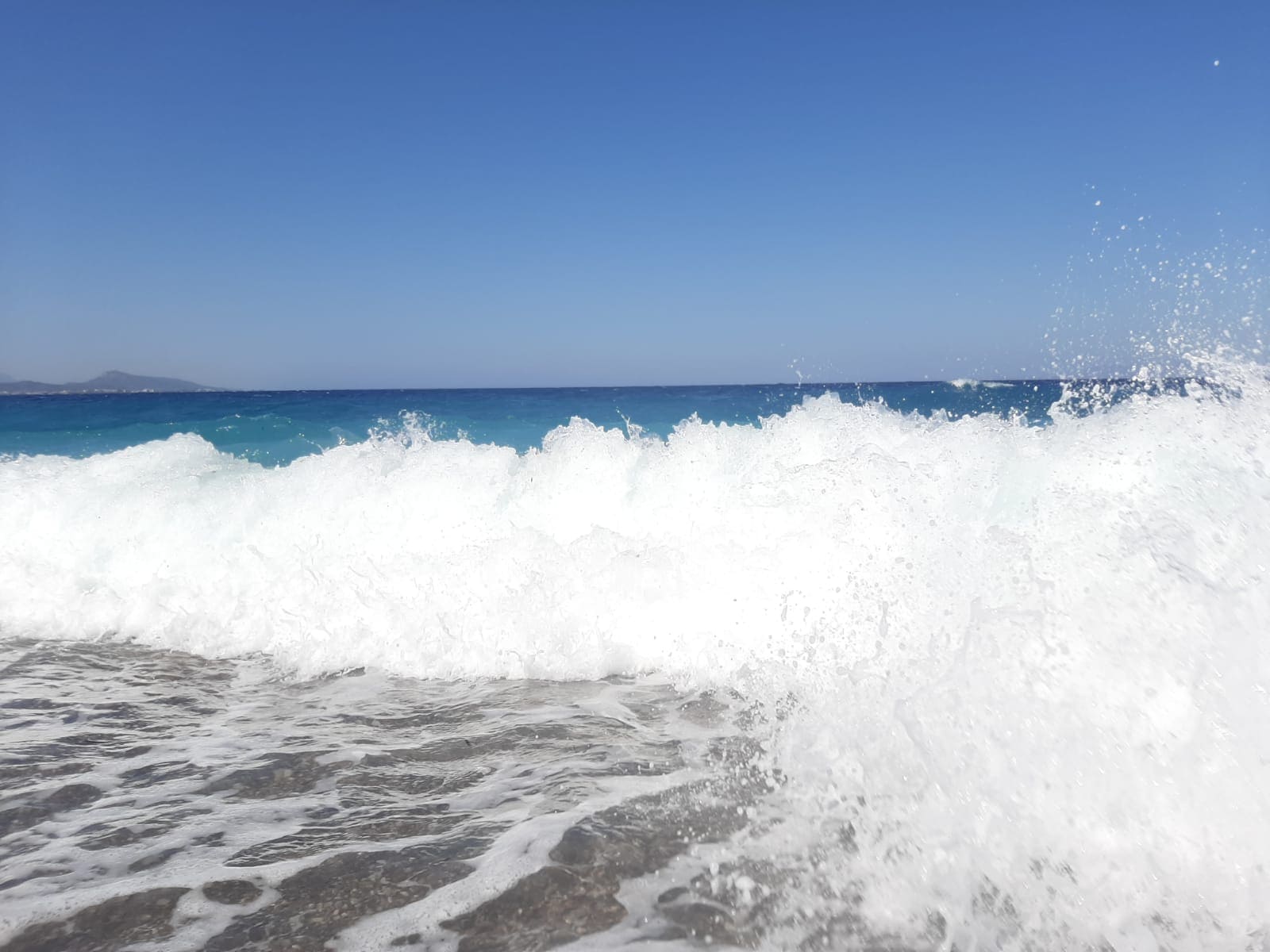 2. Two places you want to visit during your internships on Rhodes
You want to use one of your free days of your internships on Rhodes and plan a little trip?
If so, we recommend the Acropolis of Lindos and the Acropolis of Rhodes to you! Lindos is a beautiful town that promises a lot of Greek flair. It is the former capital of Rhodes and you can visit the wonderful Acropolis of Lindos. You will see that's awesome!
The scale of the huge structure will impress you because everything has been built so much bigger than you can imagine. Additionally, the human beings look so tiny on this huge building it is wonderful to see and unbelievable to imagine that also just people like us have built this.
If you cannot get enough of these kind of impressive construction, you can also visit the Acropolis of Rhodes. Here you can enjoy an spectacular view from the hill, especially at sunset.
Both buildings are different in their kind but both are absolutely worth a visit! So if you're looking for an interesting excursion for a day these both ancient monuments would be very good choices.
3. The tree of the island is the olive tree
Olive trees grow all over the island more than everywhere else. You will see them at the hotel complex, at the edge of many roads and simply everywhere grows one next to another.
These trees look totally dried out from outside but have the ability to store liquid inside, which allows them to bear fruit despite the enormous heat in the months of April to October. Never before, we have tasted such delicious olives and olive oil. It is no wonder that people all over the world love the delicious olive products from here.
4. A little but wonderful detail you will see here on Rhodes
We would say it is the island of scooters and motorcycles. It is so great to see more scooters than cars on the roads. People are driving slowly and carefully here, You will love the relaxed mood that the easy-going people and the sun on this island are giving to you. It is an unbelievable feeling sitting on a scooter when the sun goes down and you can feel the warm wind in your hair and on your skin. If you cannot rent a scooter do not worry because every walk will also give you this unique relaxed feeling here on Rhodes.
5. Do you know the legend of the Colossus of Rhodes?
We don't know if you have heard of it before but during your internships on Rhodes you can visit the former location of the Colossus of Rhodes, which was one of the 7th world wonders of the ancient.
The legend tells about this largest statue of the antiquity that have been built within 12 years, started around 292 BC. It was a huge and impressive figure within its 33 meters and the legend says it was a gift from Greek gods. Unfortunately, it was destroyed by an earthquake only 66 years later but on the Island Rhodes and also in the whole world this legend and also this certain magic of this place lives until today. Where once the ships passed directly under the Colossus, today you can see only the harbour entrance, on which that colossus was standing. If you do your internships on Rhodes and visit this place you can imagine the incredible size of this statue.
We recommend you to visit this location and let the history take effect on you.
If you decide to do your internships on Rhodes there is so much to explore here… One internship will not be enough to see all these historical monuments and beauty of this island. 😊