The language school in Cadiz is located in a beautiful bay of Andalusia!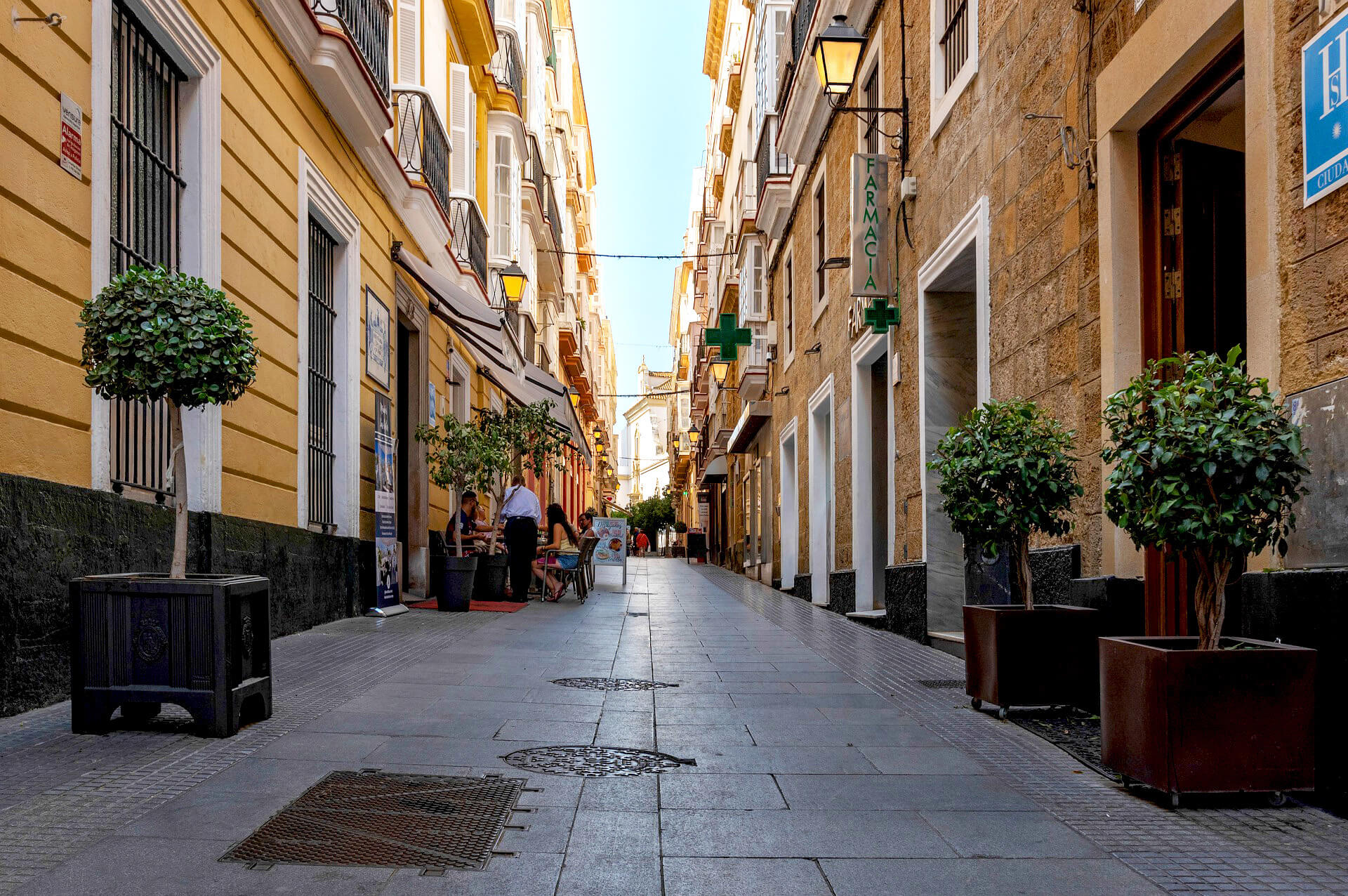 Spanish school in Cadiz
Make your language travel to Cadiz unforgettable. Surrounded by a historic old town, the language school in Cadiz is only a few minutes away from great beaches. Cadiz is the perfect city to discover tourism in a new way, as it is mainly Spanish people who spend their holidays here. Therefore, you can also improve your Spanish language skills in your free time.
Carnival is also celebrated in Cadiz and is accompanied by public dinners with typical dishes. For almost a month, the whole city enjoys numerous musical performances and competitions, including those broadcast on television, where countless music and dance groups battle for the public's attention.
If you like to spend your free time on the beaches and enjoy the evening with lots of fun and fiestas, then a language course in Cadiz is just the thing for you.
You can find information material about the language courses ➜ here
Location language school in Cadiz:
Our partner school in Cadiz is located in the centre of the city and only a few minutes from the beach. Sports enthusiasts will not be disappointed either. Some sports facilities are only a few minutes away from the school. Another possibility to enjoy your free time is offered by Parque Genoves. This park is surrounded by extraordinary plants and trees. Nature lovers will definitely not miss out here.
Computer room with laptops, microphones and headphones
Large, bright classrooms (incl. audio equipment & screens)
Price example Cadiz Courses 2020

4 weeks intensive course (20 lessons per week)

4 weeks accommodation, double room, shared student flat

Registration fee

Total

700 €

436 €

35 €

1.171 €
The city of Cadiz
Cadiz is located on a peninsula in the middle of an Andalusian bay. In the oldtown of Cadiz, that is marked by narrow alleyways and small plazas, are some buildings worth seeing. Among them for example the Iglesia de Santa Cruz, whose foundation walls date back to the 13th century. Not for nothing Cadiz is the oldest city of Western Europe. A culinary delicacy is the typical fried fish from the bay, the pescaíto. In the surroundings of the city there are beautiful beaches, which invite you to spend relaxing hours in the sun. If you like to get on a surfboard, the beach Santa Maria del Mar is the right place for you. Here the experts of the scene meet. The beaches of Cadiz are also surrounded by miles of promenades. So after your lessons you can enjoy the sunset with a walk on the beach.